Volt-Star Mini Charger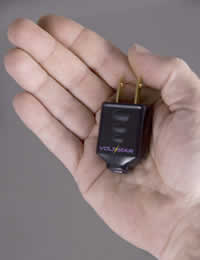 The Volt-Star travel charger is the slimmest cell-phone charger on the market today. This thin and lightweight charger does not block adjacent socket receptacles.
Designed to provide the utmost in convenience, the Volt-Star travel charger offers more features than its larger counterparts. A Mini-USB connector interface allows the changing of cables so a variety of hand held devices can be charged with the Volt-Star charger.
The stylish black soft touch gripping bumps and gold blades provide improved ergonomics and easier plugging and unplugging.
The Volt-Star travel charger is designed to protect your hand held device. Superior grade components were selected for reliability and performance unlike typical chargers.
This charger features heavy-duty surge protection to block power line surges from damaging your device while it is charging. In addition, over voltage protection and over current protection further protect your device from abnormal operating conditions. The Volt-Star travel charger is ROHS compliant and UL listed.
Prices
$14.95 - Mini Charger with adapter cable
$14.95 – Mini Charger with Apple compatible adapter cable

Free Shipping

!
Features
Charges any 5 volt device
Heavy–Duty Surge Protection
Over Voltage Protection
Over Current Protection
UL Listed E302070
Efficiency Level IV
Gold Blades
Soft Touch Gripping Bumps
*Cables for most popular brands available
Electrical Specifications
Parameter
Symbol
Min.
Typ
Max.
Units
Conditions
Input
Voltage
VIN
100
240
VACrms
2 Wire - No Earth Ground
Frequency
fLINE
50
60
Hz
No-Load Power
0.04
Watts
260 VAC Input
Output
Voltage
Vout
4.75
5
5.25
VDC
Peak Output Power Point
DC Ripple Voltage
V

RR

150
mVDC
Resistive Load Maximum Power
Current
IOUT
500
550
650
mADC
Power
POUT
2.50
2.75
3.25
Watts
T

AMB

= 22C
Environmental
1.2/50 Surge
2
kV
1.2/5.Oμs Surge, IEC 1000-4-5
100 kHz Ring Surge
2
kV
100kHZ Ring Wave, 500A
Ambient Temperature
T

AMB

25
°C
Free Convection, Sea Level
Conducted EMI
CISPR22B/EN55022B, FCC Class B

Artificial Hand Connected To Output Return

Safety
UL 60950 Class II